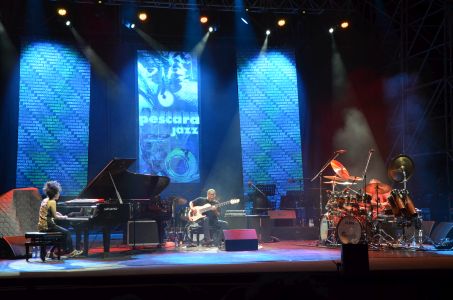 Pescara Jazz is a long awaited Festival in the center of Italy, after Umbria Jazz. It is an open air concert, in a nice location, in the 'Teatro D'Annunzio', an arena that named for an Italian writer who was born here in 1863. The theater is located just a few metres from the sea and has a good sound quality. I was right in the center of the theater, row 6, seat 33, just 7/8 metres in front of the stage.
For the first time I attended to an Hiromi concert. Honestly, she has a great talent and she is too far a big artist, but that night her group has performed for a very short time, 70 minutes only. And not even an encore!
It was a bad surprise for me and for a part of the audience. Just because there was a second show after her, an italian big band, the Lydian Sound Orchestra, that has performed and re-arranged the whole Charles Mingus album 'The Black Saint and the Sinner Lady'. Yes, a good idea for a Festival Jazz, but normally Hiromi should have been the headliner...! You can cut-off the last track of my recording, if you do not want to listen to my disappointment... I was there with my friends Luca and Achille.
Enjoy the show. And do not miss Hiromi on tour if she plays in your neighbours...
Anthony Jackson - contrabass guitar
Hiromi - piano, keyboards
Simon Phillips - drums

01.intro 01:39
02.Warrior 10:43
03.Player 11:36
04.Hiromi 01:57
05.Dreamer 10:02
06.Endeavor 11:16
07.Firefly 10:41
08.Alive 12:05
09.applause 02:59